Blog Tour! University Press Week 2021 #KeepUP

By Kate O'Brien-Nicholson

11th November 2021
By Peter Quinn
"Peter Quinn takes history by the throat and makes it confess."—William Kennedy
"Historical fiction as well made and whole as this is not common . . . Convincing and intriguing . . . Hardly a page of this book is without some revelation."—The New York Times Book Review
"Vividly imagined, scrupulously researched, and almost disorienting in its authenticity . . . A historical classic . . . Nothing short of splendid."—The Philadelphia Inquirer
"Exceptional . . . The author's pungent style, refusal to romanticize, and affinity for historical details all blend to make Banished Children of Eve an achingly vibrant panorama of ethnic feuds and struggles."—Los Angeles Times
"A stunning portrayal of New York in 1863 . . . Would that all history be told as well."—Chicago Sun-Times
By Hilary Green
"Green's revised chronology of Reconstruction and meticulously researched book motivates readers to want to learn more on the subject and should be required reading of anyone interested in our American past, African American education, and how ordinary people can do extraordinary things even when given only the slimmest of chances."—History of Education Quarterly
"Green, by providing so much detail, has given today's urban schools activists a road map for change and perhaps the motivation to believe that their work will have a significant impact despite the naysayers and those who do not value the education of African American youth."—History of Education
"By providing a municipal view of African Americans' roles in shaping southern public schools during and after political Reconstruction, Green sheds important light on the factors that determined the extent of educational progress."—The Journal of Southern History
"During this twenty-five-year-period in the post–Civil War era, the credo that education was a right of citizenship informed African American activism. African Americans remained resilient and adaptable as they fostered networks and alliances. Educational Reconstruction is thus a timely reminder of the power of education to bring about individual, collective, and societal transformation.—Journal of the History of Childhood and Youth
Gene Youngblood, Introduction by R. Buckminster Fuller
"Expanded Cinema defined the world of what is now known as media arts."—Alvy Ray Smith, co-founder of Pixar
"Stan VanDerBeek coined the phrase 'expanded cinema.' But it was Gene Youngblood who put it on the cover of a book, filled it with rocket fuel, and sent it buzzing through the late-1960s art world like a heat-seeking missile . . . "—Artforum
"Expanded Cinema is one of the most prescient books written about our modern age."—Chrissie Iles, Whitney Museum of American Art
"Youngblood's Expanded Cinema stands as one of the classics of the interdisciplinary field that studies media, art, and science."—Jussi Parikka, Winchester School of Art
"Gene Youngblood is the medium's Thomas Jefferson. The man who wrote our Declaration of Independence, who marked out a vision of media and democracy that remains an invaluable guide to media culture and a document of extraordinary vision and prophecy."—Bruce Jenkins, School of the Art Institute of Chicago
By Simon Orpana, Foreword by Imre Szeman, Afterword by Mark Simpson
"His thickly textured line-work, dense paragraphs of hand-written text, and high-octane arguments have the vibe of a Xeroxed anarcho-environmentalist zine from the 1990s." —Publishers Weekly, Comics Book Review
"This is an important book! We are floundering up to our necks in oil and Simon Orpana explains how we got here, the dire consequences of our dependence on fossil fuel, and posits ways forward to get out of the pool. It's in-depth, academic and playful and examines petroculture through multiple cultural lenses coupled with visually inventive imagery, creating an incredibly readable book."—Joe Ollmann, author/artist of Fictional Father
"Anyone trying to understand how settler states, petroculture, and climate change shape everyday life as well as movements that imagine what the world might look like in a post-oil future needs to read this powerful book by a brilliant theorist, storyteller, and artist."—Shelley Streeby, author of Imagining the Future of Climate Change: World-Making through Science Fiction and Activism
"This is an impressive statement and picture of what the energy humanities can look like, feel like, and do."—Grierson Research Group Book Shelf
By Vaibhav Saria
Winner, 2021 Joseph W. Elder Prize in the Indian Social Sciences

Winner, 2021 Ruth Benedict Prize, Association for Queer Anthropology
"Hijras, Lovers, Brothers is a gripping ethnography of hijras and their communities. Saria details the intimate, social, and economic structures that determine how hijras craft their lives, whom and where they love, and the losses they grieve. With startling insights, Saria shows how hijras shape and reshape those very experiences. This book will be a touchstone for Indian anthropology, sexuality studies of the global South, queer studies, international public health, transgender and feminist studies, and the comparative anthropology of kinship. An iconoclastic, vivid and deeply meaningful book." —Chandan Reddy, University of Washington
"Hijras, Lovers, Brothers offers fresh and important take on a topic that needs exactly that. It contributes not only to the long conversation about the people known, among other labels, as hijras, but to social action, kinship, love, sexuality, pleasure, and trans and queer life. Saria shows how hijras represent a kind of existence that is at once foundation and intervention, a quality of being-among-categories that recurs in South Asian forms of social life and renders unfamiliar globalized critical ideas about how categories work and are worked upon by the social."—Sarah Pinto, Tufts University
Judith Butler
"With this inspiring book—simultaneously a philosophical dispossession of philosophy, a paean to sensation and an affirmation of the 'radically impossible venture' of ethics and politics—[Butler] edges towards a palpable, outward-looking alternative to philosophical chest beating."—Times Higher Education
"In this exceptional collection, Judith Butler displays the unusually vivid, even startling insight that makes her indisputably the world's most interesting contemporary philosopher. These lucid essays climb in and out of the me, the her, the you, dream and reality, subject, object, nature and the preternatural, meaning and its deadly discontents. Butler wrestles the narratives of embodiment into language that lives."—Patricia J. Williams, Columbia Law School
"Butler concludes the Introduction to this book thus: 'Acted on, I act still, but it is hardly this "I" that acts alone, and even though, and precisely because, it never gets done with being undone.' In these eloquent, passionately dialectical, and vertiginous essays, Butler relentlessly tracks our being undone by others, by language, by things, by institutions, and by the normative formations that hold us upright beyond our standing upright in the writings of, among others, Descartes, Spinoza, Hegel, Merleau Ponty, Irigaray, and Fanon. This is echt Butler: a necessity for those who already know her work, and a generous point of entry for those philosophers who have yet to find their way to her thought."—J. M. Bernstein, The New School for Social Research
Micah Bucey, Foreword by Pádraig Ó Tuama
Bearing witness to the first year of the COVID-19 pandemic
"Just as one tiny speck of glitter lights up an entire face, each of these radiant tiny prayers sparkles with huge hope. They are jewels of honest introspection, poetic gifts born of a year of turmoil, collected as a trail of glitter crumbs, lighting up our way back home to the soul."—Rabbi Amichai Lau-Lavie, Founding Spiritual Leader of Lab/Shul
"Prayer changes things; this was central to my childhood faith training. And the older I get, the more the world turns in ways that cause me deep concern, the more I believe it to be true. These tiny prayers from Micah Bucey's big heart add up to something far larger than first meets the eye. In the midst of fear, grief, and continuing injustices, these are sincere expressions of the desire to dream God's dream, with the power to center us, comfort us, ground us, and galvanize us for the sacred work we must be doing in order to heal our souls and the world. This collection is a very specific record of a very specific year, but the sense of yearning and hope will inspire lives of love and justice for years to come."—The Rev. Dr. Jacqui Lewis, Senior Minister, Middle Collegiate Church and author, Fierce Love: A Bold Path to Ferocious Courage and Rule-Breaking Kindness That Can Heal the World
Joseph B. Raskin
"Apart from sheer enjoyment, this book underscores how radically decisions about transit shape property values, commerce, neighborhoods, and people."—Choice Magazine
"In presenting lively…case studies of what he regards as the most important unbuilt lines, Mr. Raskin encourages his readers to think about the adaptable nature of the city."—Wall Street Journal
"Joseph B. Raskin's parents never owned a car, and so the New York subway system perhaps played an outsize role in shaping his worldview. In The Routes Not Taken: A Trip Through New York City's Unbuilt Subway System, Mr. Raskin draws on this perspective to provide an insightful look at the what-might-have-beens of urban mass transit. The first subway, the IRT from City Hall to West 145th Street, was built in four and a half years. That pace has rarely been equaled in the century since. Consider that the Second Avenue subway, the first segment of which is to open in 2016, was envisioned in 1929. Why were certain lines elevated—and later demolished—instead of buried? Mr. Raskin, the assistant director of government and community relations for New York City Transit, dusts off old blueprints of lines that were never built or never completed, explaining how the system shaped urban development and how political and economic forces conspired to create today's subways. If only the Transit Construction Commission's 1920 plan had been adopted: a $350 million, 20-year blueprint that would have provided a grid of subway lines covering all five boroughs and provided for a city with a population even bigger than today's."—Sam Roberts, The New York Times
*Filled with illustrations of the extravagant expansion plans, The Routes Not Taken provides an enduring contribution to the transportation history of New York City.
Dylan Rodríguez
Dylan Rodríguez named to the inaugural class of Freedom Scholars in 2020 and is President of the American Studies Association (2020-2021).
"As thoughtful as it is fierce, White Reconstruction is a pleasure for those of us who study and teach history. Refusing to imagine the historian's concerns as at odds with those of the theorist, Rodríguez shows white supremacy reinventing its forms without losing sight of its imperatives. In consolidating slick new moments of control, rulers retain old modes of domination. Moments of multiculturalism and those of terror against vulnerable populations do not succeed, but instead structure, each other in this compelling study."—David Roediger, author of The Sinking Middle Class: A Political History
"Drawing from a deep reservoir of radical writing and activism, leading abolitionist thinker Dylan Rodríguez creatively frames the current multiculturalist moment as the latest stage of historical reconstructions of white domination. He astutely distinguishes anti-Blackness and racial–colonial power while demonstrating how they remain linked by global white supremacist aspirations and logics. White Reconstruction challenges us to think more radically both by eschewing reformist ideas and terms and by learning from the creative genius of liberationist insurgencies that call us to abolitionist struggle."—Dorothy Roberts, author of Killing the Black Body: Race, Reproduction, and the Meaning of Liberty
Andrew Albin, Mary C. Erler, Thomas O'Donnell, Nicholas L. Paul, and Nina Rowe, Editors, Introduction by David Perry, Afterword by Geraldine Heng
"…Whose Middle Ages? should be on every medievalist's bookshelf and on every class' reading list."—Matthew Gabriele, Virginia Tech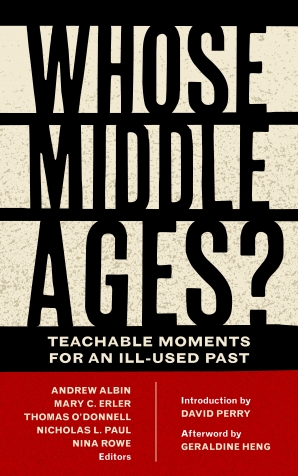 "This is a significant contribution to medieval studies and has already generated discussion among medievalists debating disciplinary politics."—Journal of Medieval Worlds
"This book is timely in a way that won't get old. It has something for everyone, from professional educators seeking to enliven their classrooms to anyone curious about the origins of popular symbols and phrases. With a plethora of compelling case studies from contemporary culture, religion, art, and politics, there are vital lessons on almost every page. In example after example, the authors show how people shape the Middle Ages to reflect their fears and dreams for themselves and for society. The results range from the amusing to the horrifying, from video games to genocide. Whose Middle Ages? Everyone's, but not everyone's in the same way."—Michelle R. Warren, author of Creole Medievalism: Colonial France and Joseph Bédier's Middle Ages
"Whose Middle Ages? offers an ethical and accessible introduction to a historical period often implicated in racist narratives of nationalism and imperialism. A valuable teaching resource, Whose Middle Ages? will inspire necessary discussions about the politics of engaging the past in the present, as it also recovers a Middle Ages that is complex, messy, and belongs to us all."—Sierra Lomuto, Assistant Professor of English, Macalester College
"Cross-disciplinary, classroom-ready, and super-timely meditations on medievalisms in our midst, benign and malign, and on medieval self-understanding. Recommended."—David Wallace, Judith Rodin Professor, University of Pennsylvania
——————————————————————————————————————————-
#UPWeek Blog Tour
Follow the 2021 UP Week Blog Tour by checking out posts on these UP blogs:
#KeepUP Gallery
Selected by member presses, the 85 projects in this online gallery and reading list offer a small sample of university presses' pathbreaking work in a variety of formats and through a wide range of initiatives.
#AskUP
For authors Seeking Knowledge from University Presses, visit Ask UP.
#ReadUP
SAVE 30% OFF ALL BOOKS. USE PROMO CODE KeepUP AT CHECKOUT.